By Chuck Knebl, communications manager, WorkOne Northern Indiana, South Bend
SOUTH BEND, IN – Older job seekers should gain optimism because of several provisions in a newly effective federal law that governs publicly financed workforce development agencies from coast-to-coast in the United States, including at WorkOne Region 2 in north-central Indiana.
The federal Workforce Innovation and Opportunity Act (WIOA) became effective on July 1, 2015, and several WIOA provisions "should work well for older workers," said AARP in an online analysis of workforce-development public policies.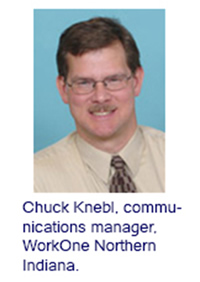 The statute contains language directing American Job Centers (such as WorkOne) to focus resources as well as staff energy to help "individuals with a barrier to employment," including persons age 55 and older as well as groups in which older workers are represented disproportionately.  These groups include the long-term unemployed, displaced homemakers and people with disabilities (the disproportionate aspect arises because older individuals are included in these groups are a higher percentage than their composition in the overall population).
Reporting data under the new statute must be separated by age, "which should make it easier to see how older workers fare under WIOA programs," AARP added in it analysis.
Under the old legal structure, American Job Centers essentially were required to assist job seekers within a defined structure that mandated a particular sequence of publicly financed services.  Yet this structure, which was referred to as a "silo system" to indicate inefficient separations among service providers, resulted in disincentives, missed opportunities, delays and other complications.  For its part as the new pillar of workforce-development law, WIOA "eliminates the sequence of services," AARP explained, that "should enable job seekers to access training and supports immediately.  This could speed-up the return to work."
In another vital area, WIOA calls for improved services to people with disabilities – many of whom are older individuals who nonetheless want to work.  The law also "maintains and broadens state flexibility on supportive services, without which many older people cannot work," AARP said.
Finally, the enhanced reporting requirements in WIOA could spur optimism for older workers.  "Core programs will be required to report on performance indicators such as the number of participants who entered and retained employment, median wages and credential acquisition.  Administrative reports on individuals with barriers to employment must be made public," stated AARP.
LINKS:
AARP Public Policies 2017-2018:
http://policybook.aarp.org/the-policy-book/chapter-5